Here you will find short forum clips with the most important contents of the lectures.
3rd Archi-World Academy Award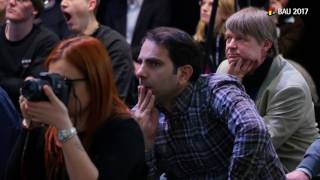 Education and Qualification Offensive 2050
Prof. Dr.-Ing. Susanne Rexroth, Prof. Dr.-Ing. Klaus Sedlbauer, Prof. Dr. Dr. Bernd Wegener, Dr. Thomas Welter

Are college educations overloaded with content? What are needs of the students, the colleges/universities and the industry? Is reducing bureaucracy a solution for the future? Prominent experts discussing this topic at BAU 2017.
The authenticity of the imitation
Michaela Gimpl, FRITZ EGGER GmbH + Co. OG

Authentic optics, easy cleaning, durability and color stability: The imitation should be every bit as good as the original—on the contrary. Among other things, Michaela Gimpl from FRITZ EGGER GmbH + Co. OG explains how melamine can be used to imitate maximum authenticity at BAU 2017.
Interview with Sophia Xue Bai, Tsinghua Univeristy, Beijing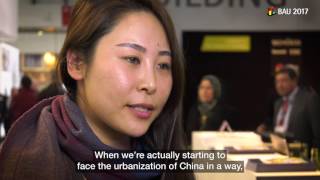 What does the future of building look like in China? At BAU 2017, Sophia Xue Bai explains why, given all the urbanization, it is so important to breathe life back into rural areas.
Technology vs. technophobia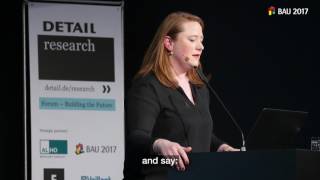 Elisabeth Endres, Ingenieurbüro Hausladen

How much technology do we need? How do we maintain the right amount of diversity? Is high tech taking us back to low tech? Elisabeth Endres from Ingenieurbüro Hausladen sheds light on the trade-off between technology and technophobia at BAU 2017.
BIM—Interview with Julian Weyer, C.F. Moller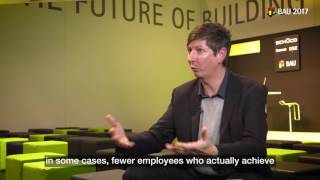 In Denmark, BIM has been mandatory for all public tenders since 2012. How does it change the way we think and deal with digital tools? What does it mean for interaction between those involved in a project? Julian Weyer from C.F. Møller gives insights into his daily work routine at BAU 2017.
Digital Twin
Interview with Prof. Dr. Klaus Sedlbauer, presentation by Thomas Kirmayr, Fraunhofer Institute for Building Physics IBP

The building as a person's active partner? Will the digital twin soon be used when planning all buildings and make communication between buildings and residents possible? Prof. Dr. Klaus Sedlbauer and Thomas Kirmayr from Fraunhofer Institute for Building Physics IBP take a look into the future at BAU 2017.
Diversity in modular design
Wolfram Putz, GRAFT Architekten

Individuality using modules? Art in a container? Modularization has many facets. And it can even systematically influence social and infrastructure factors. Wolfram Putz from GRAFT Architekten explains how that works at BAU 2017.
Major projects
Interview with Jürgen Engel, KSP Jürgen Engel Architekten GmbH

Major projects are a special challenge. What decisions need to be made in the beginning so that they are still relevant in 25 years? How can projects be managed to ensure that they are ultimately a temporal and financial success? Burkhard Fröhlich from DBZ and Jürgen Engel from KSP Jürgen Engel Architekten GmbH provide answers at BAU 2017.
Köln Arcade pop-up store
Bettina Kratz, Kplus Konzept GmbH

Here today, gone tomorrow? What exactly are the advantages of pop-up stores? At BAU 2017, Bettina Kraft from Kplus Konzept GmbH explains why a short lifespan can offer a number of possibilities and how a marketplace atmosphere and flexibility can shape the future of retail.
From creation to tool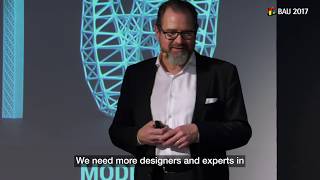 Michael Drobnik, Herzog De Meuron and Stefan Schrenk, Autodesk

How do projects influence the choice of digital tools? What is the question when the answer is technology? And what actually happens when CAD really becomes Computer Aided Design? Michael Drobnik from Herzog de Meuron and Stefan Schrenk from Autodesk follow the journey from creation to tool and from tool to site at BAU 2017.
Living—Interview with Winy Maas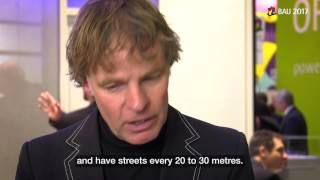 How will we build and live in the future? Why is transparency within processes so important? And how can individualism be combined with increased population densities? Winy Maas from MVRDV Rotterdam shares an interesting outlook at BAU 2017.
Infra lightweight concrete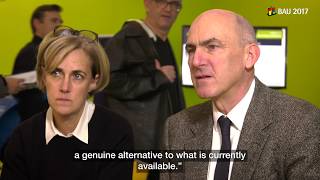 Interview with Prof. Regine Leibinger, Barkow Leibinger and Prof. Dr. Mike Schlaich, Schlaich Bergermann Partner

Load-bearing thermal insulation using infra-lightweight concrete that floats? Is that really possible? Yes, and it's sustainable and innovative, as Prof. Regine Leibinger and Prof. Dr. Mike Schlaich explain at BAU 2017. They are convinced that the topic of concrete is far from being exhausted.
Brick: Construction material with tradition and future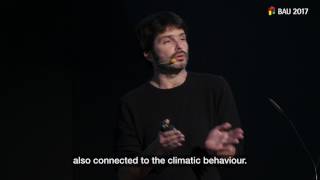 Michael Brückner, Wienerberger, Organizing matter—Roger Tudó Galí, Harquitectes, Barcelona

Can a 4,000-year-old building material still be contemporary? What advantages does brick offer? And how can it be used to create various rooms and climate conditions? Michael Brückner from Wienerberger and Roger Tudó Galí from Harquitectes make an impressive case for brick at BAU 2017.
Energy efficiency of electric heating pumps in the Efficiency House Plus, Hans Erhorn, Fraunhofer IBP
Results of monitoring use in actual practice, Hans Erhorn, Fraunhofer Institute for Building Physics IBP

What are the key factors for energy efficiency? How efficient are heating pumps? And how does quality assurance work? Hans Erhorn from the Fraunhofer Institute for Building Physics IBP answers these questions in his presentation at BAU 2017.
Advertisment
Advertisment
Advertisment
Advertisment
Advertisment